The Matthew
Docks
The Cabot Tower was built in 1888 to commemorate John Cabot's journey to Newfoundland in the fifteenth century. In 1998 a boat was built in Bristol, again to commemorate his journey and its relevance to Bristol. The boat is a replica of The Matthew, Cabot's own boat, and was sailed to Newfoundland and back in 1998. It is currently moored next to the SS Great Britain.

Your can board The Matthew and even have an evening sail on Tuesday and Thursday evenings (see their website for details). You can also book the whole boat for up to 40 people. They intend to have some long sailings in the future too.

It also has its own Internet site. The Bristol Evening Post also has a good article about The Matthew.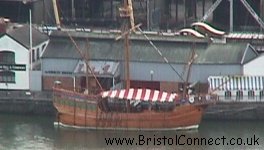 ---

Click on the arrow to go back to the list of Bristol Sights.
---