Events and Festivals
Bristol International Balloon Festival
Ashton Court Estate
10 August 2001. 6:00am to 8:30pm

This is an amazing annual event (10th - 13th August, for the year 2000) which you must not miss. It is free (unless you want to spend your money at the fairground) and thousands of people attend every year. It also has its own Web Site. Here are some pictures from the balloon festival (click on the pictures for an enlargement):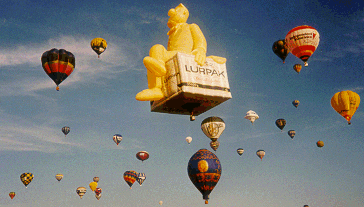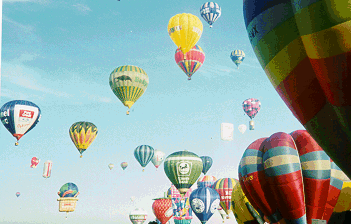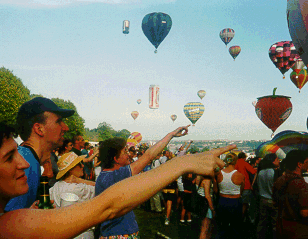 ---
Bristol Community Festival
Ashton Court Estate
14/15 July 2001, 12:00pm to 11:00 pm

The Bristol Community Festival website has some pictures from last year and other useful information.


---
Bristol Doors Open Day
Many venues around Bristol
8 September 2001; 10:00am to 4:00pm

Participating buildings will have long banners showing you where to enter. For further information call the Department of Environment, Transport and Leisure on 0117 922 3719.


---
North Somerset Show
Ashton Court Estate
7 May 2001, 8:00am to 6:00pm


---
Bristol Festival of the Sea
Last Saturday in July

The annual Bristol Regatta takes place all along the city's dockside, as well as in the hundreds of boats that congregate there. There are live bands performing throughout the day and activities for kids too. It is basically a huge dockside party, most people in the many pubs and bars to drink all day in the sunshine.


---
Bristol Jazz Festival
Late August

This is a fairly low-key event held in Kings Street during the August Bank Holiday. A stage is erected in the street between the Old Duke (famous for its Jazz) and Llandogger Trow (one of the oldest pubs in Bristol), where jazz and folk music is performed live all weekend. It has an excellent atmosphere that attracts people from all areas of Bristol and further.


---
St Paul's Carnival
St Pauls Carnival is now over 35 years old; it began as a cultural celebration of the black and Irish community living in and around the area of St Pauls in Bristol. It could now best be described as a Notting Hill Carnival on a smaller scale. It starts with a street parade in the daytime, but the partying doesn't stop until the early hours of the morning, accompanied by live music and sound systems. This, along with street performances, craft/music stalls and the delicious authentic Caribbean food available, makes for a fantastic atmosphere that attracts up to 40,000 people every year. It has it's own St Pauls Carnival site.

Bridgwater Carnival - Bridgwater Guy Fawkes Carnival, Somerset.

Glastonbury & Chilkwell Carnival Glastonbury, Somerset.

Honiton Carnival - Honiton Carnival, Devon.

Midsomer Norton & District Carnival Association - Somerset.

Wells Carnival - Wells Guy Fawkes Carnival, Somerset.


---
Thornbury Arts Festival
This festival first ran in 1970. You can see what's happening this year on the Evening Post page about the festival.


---
Easton Community Festival 'Under One Sky'
To be confirmed for 2004

Weekend cultural celebration at Easton Community Centre, in the surrounding streets and at Eastville Park.

Respect in the West
To be confirmed for 2004

Promotes anti-racism and involves a massive street party which encompassing live music, poetry, parades and stalls.
---
Bath International Music Festival
18th May to 3rd June 2001
All types of music including Classical, Contemporary and Jazz. You can submit your e-mail address for more information or request a brochure from the Bath Music Festival website. There is also a Bath Festivals website.

Bath Fringe Festival
This Festival is a celibration of many events including music, comedy and much much more. The Bath Fringe Website enables you to add yourself to the mailing list and see pictures and commentries from festivals over the last few years.


---
Bristol's Biggest Bike Ride
Contact number for further information and registration packs: 0117 922 3148
17 June 2001; 09:00am to 4:00pm (subject to change)

Bristol's Biggest Bike Ride is organised by Bristol City Council and past years have been a lot of fun - with thousands of people attending. Some of the roads around Bristol are closed for the event which gives you a rare chance to cycle on them with no cars around - including along the Portway.
There are different categories of rides - anticipated by the City Council to be 8 miles, 15 miles and 40 miles for this year, starting in the morning from Millennium Square (outside @Bristol). The rides will finish at College Green, in front of the Cathedral.
Please note that this event hasn't been confirmed yet - ring the number above for confirmation.

European Car Free Day - In Town, Without My Car!
The next European Car Free Day will be on Saturday 22nd September 2001.

Take part in Bristol.
---

Click on the arrow to go back to the main Leisure page.
---