Shopping Areas in Bristol
Broadmead Shopping Centre
This is the main shopping precinct which is mainly a pedestrian area. It's a fairly modern with all the shops you'd expect- Next, The Body Shop, River Island, HMV etc. There are also some of the bigger department stores- John Lewis, Debenhams, C&A, as well as a new House of Fraser.

In the area is The Galleries Shopping Centre which is an American-style mall packed with shops and restaurants on three floors. As you would expect it gets fairly busy especially at the weekends. It is open Monday - Saturday 0am to 5:30pm, late night Thursday 7pm and Sunday 11am to 5pm.

Have a look at the Broadmead Shopping Centre site and the The Galleries Shopping Centre site.



Christmas Steps
A very small but very interesting collection of charming and extremely interesting shops.



Park Street
From the Wills Memorial Building down the hill, this street is packed with loads of clothes shops, record shops, restaurants and so on. This stretch of road will provide mostly anything your heart desires and if you're not careful you will end up spending loads more than you planned. Whether you want to do some serious spending or just browse this is definitely the place to go. It is particularly fun for Christmas shopping when you can buy all those things that are really interesting but which you don't want yourself! Stop of at Woody's opposite the cathedral for a warming cup of tea and rest in winter.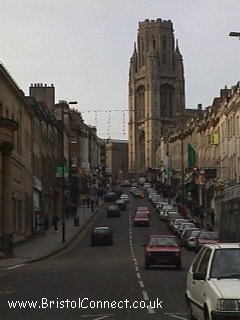 Whiteladies Road
Typical high street. You can probably find more or less what you want here. Loads of restaurants. The Clifton Down shopping centre is at the bottom with Sainsbury's, W.H.Smith, Boots, a sports shop and health food shop.

Clifton Village
More of an exclusive area with prices to match. Lots of boutiques, antique and jewellery shops, restaurants and pubs. Great to wander round on a sunny afternoon.

Gloucester Road
This huge stretch or road is packed with some quality second hand shops- clothes, records, furniture- where you can pick up some great bargains.

Montpelier
Packed with lots of second hand furniture and bric-a-brac shops. Plenty of good bargains. A vegetarian's dream-organic food galore and an excellent Chinese supermarket. Very good place to find original and unique presents for your friends.


Broadwalk Shopping Centre
Located in Knowle, Broadwalk Shopping Centre includes Bristol's largest Somerfield superstore, Iceland, Superdrug, Select, BonMarche, Be-Wise, Mountstevens and many more.
Cribbs Causeway
Megastore city with John Lewis one end and Marks and Spencer the other. Cheap food shopping at Asda/Wal-Mart, Toys R Us, MFI, Drive thru' McDonalds, Garden Centres. You need a car to get there. Also has a Warner Brothers Cinema and TGI Friday. Dave and Buster's used to be there but has now closed down (have a look at the post Dave & Buster's website (a site about the now closed venue, it offers views, stories and photos of people who worked there).

Cribbs Causeway Shopping Mall is just off the M5 near Bristol, it calls itself the 'complete shopping and leisure experience for the south west'. It has over 150 shops, restaurants and a cinema, free parking and easy access by car or bus.


Clarks Village
Clarkes Village is located in Street, Somerset (take Junction 23 from the M5).
01458 440 155
Discounted goods, and other things to do such as the Clarks Shoe Museum, The Village Pottery and watercolours at Michael Cooper's Studio.