Cricket
Local Cricket
Gloucestershire County Cricket Club
The Royal & SunAlliance Country Ground, Nevil Road, Bristol BS7 9EJ
0117 910 8000, info@glosccc.co.uk

Old Bristolians' and Westbury Cricket Club
1XI Captain is Dan McNamara
dan@obwcc.co.uk, 0117 977 0506

Chipping Sodbury Cricket Club
Near Yate, 01454 314147
Chipping Sodbury is one of the oldest and most established cricket clubs in the Bristol area. We welcome new players of all standards, so come and join us in the beautiful surroundings of the Cotswold Hills.

Frenchay Cricket Club
Mike Donaldson (Club Captain)
Tel: 0836 3784043

Shirehampton Cricket Club
Shirehampton Park, Bristol
Tel: 0117 9823309

YMCA Cricket Club

St Georges Cricket Club
Between 168.170 Whiteway Rd, Bristol
Tel: 0117 983 7707

Thornbury Cricket Club
Club Ho, The Ship Field, Alveston, Bristol
Tel: 01454 412424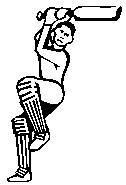 To highlight your business as a specialist retailer in this area click here.
---
Other Cricket Links
Cricket.org
UK-Cricket.org
BBC Cricket
Cricket Tours Throughout The World
Sheffield Collegiate Cricket Club
Surrey CCC Surrey County Cricket Club
Guardian Cricket Site
Australian Cricket Board
Cricket ratings (Test Cricketers)
Sky Sports cricket
ATP Tour
Cricket Unlimited
CricInfo
Cricket site
Official 1999 World Cup Website
Indian 1999 World Cup Website
Ananova Cricket - including desktop score cards.
Australian Institute of Sport
Women's Cricket
Cricket Resources - directory of Cricket related websites

---

Click on the arrow to go back to the main Sports page.
---